The payment resource may exist in different states according to the progress of the transaction: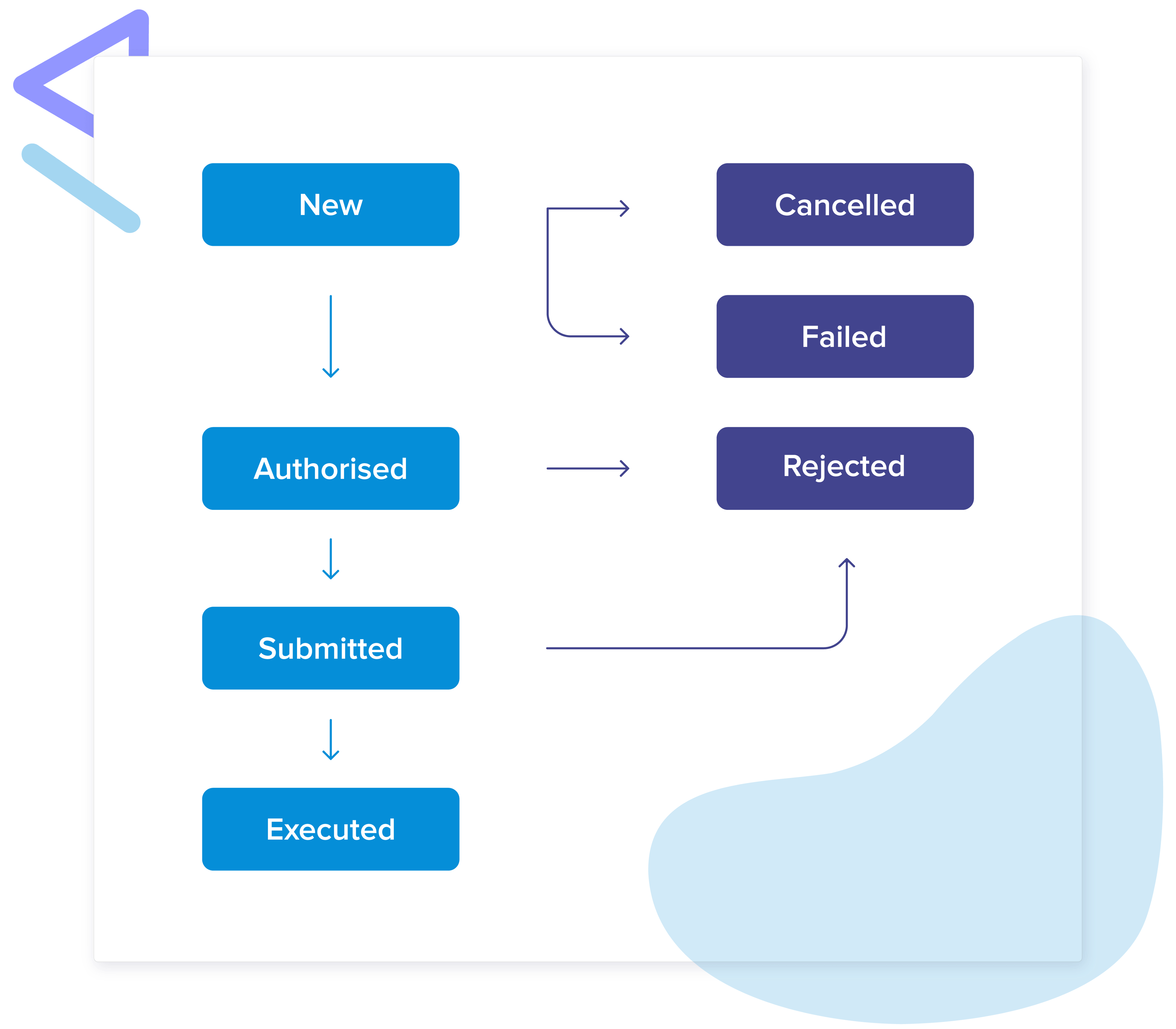 | Status | Description |
| --- | --- |
| new | The payment resource has been created, but the payer has not yet authorised the payment. The initial API response will always have this status if the API call is successful. If a payment stays in this status for an extended period of time, it's most likely that the payer has abandoned the payment process. |
| authorised | The payer has successfully authorised the payment using the ASPSP portal, but the payment has not yet been confirmed as submitted for execution. This status only lasts while the TrueLayer platform is awaiting a response from the bank API while requesting payment execution. |
| cancelled | The payer has cancelled the payment using the ASPSP portal. This may also happen for some bank UIs if the payer clicks the "Back" button in their browser. This is a terminal state, which may indicate that the payer has changed their mind about the payment/purchase. Exceeding the daily payments limit may also result in a cancelled status. |
| failed | The bank API responded with an error. This happens when the bank's systems have a bug or other internal problem, and cannot provide the service correctly. TrueLayer will report this to the bank and drive for a return to availability. You can either advise payers to wait or to try again later |
| rejected | The payer authorised the payment, but the bank rejected it after this. This is a terminal state. In this case, the payer must either use a different bank account to pay or contact their bank to find out why their payment was rejected by the bank. Possible reasons include insufficient funds. |
| submitted | TrueLayer has successfully submitted the authorised payment initiation request to the ASPSP API. |
| executed | TrueLayer has received an acknowledgement from the payer's bank that the payment has been executed via the relevant interbank payment system (e.g. Faster Payments in the UK). This is a terminal state. |
The submitted and executed states are very close; in fact, a bank may respond to the payment submission indicating the payment has already been executed. However, it is also possible for a payment to be queued within the bank for a short period of time; in that case, the payment status will initially be submitted, and then may be updated to executed after polling for a status check.
Note that after a payment has been executed, it may take some time for it to be settled, although, for transactions executed via Faster Payments in the UK, this normally happens very quickly.
Different banks may take different amounts of time to show a payment as executed in their customer banking interfaces e.g. mobile banking app, online banking, depending upon how often they refresh this data.