How do I create a Sandbox account?
Sandbox has moved to console.truelayer.com - this is the same domain as the Live environment.
If you don't have an account for the console, all you need to do is to sign up as normal.
Once you have signed up and are logged in, you can seamlessly move between the Sandbox and Live environments without changing domains, making development faster and easier than ever.
All you need to do to switch environments is to click the toggle button in the top right corner of the page: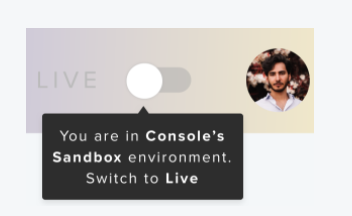 ---
More
If you need more information...
Have a look at our comprehensive API documentation.