The Sandbox and Live environments are now in the same domain!
Sandbox has moved to console.truelayer.com - the same domain as the Live environment.
You can now seamlessly move between the Sandbox and Live environments without changing domains, making development faster and easier than ever.
Make sure to bookmark console.truelayer.com. Should you revisit Sandbox's old URL, you will automatically be redirected here.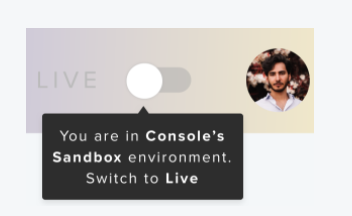 Note
Your Sandbox API calls will remain in the old URLs truelayer-sandbox.com